Lunch
Berkoff's plays are razors, edged with humor, sex and exposed vulnerabilities.
By Steven Berkoff
Directed by Richard Romagnoli
July 9-13, 2021
Virtual
40 mins
Lunch
A man encounters a woman whom he finds enormously attractive. Introductions ensue and the subsequent exchange of "viscous bodily feelings" is a contest of wit that spirals into an unique seduction.
In this wham-bam 40 minute encounter, histories are revealed, clichés avoided and a unique post-coital recognition is achieved.
Steven Berkoff's language is visceral, humorous and provocative, but it is always authentic and honest.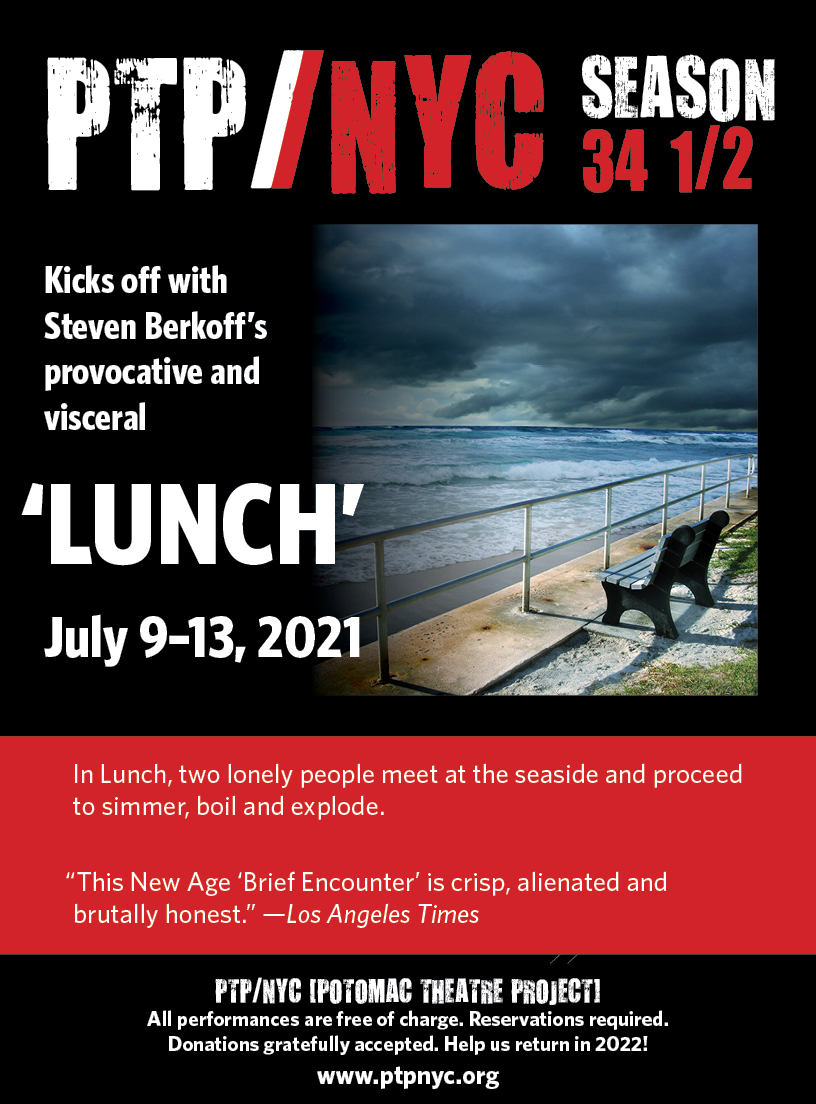 Cast
Bill Army *
Man
PTP: Scenes from an Execution, Vinegar Tom, Gertrude- the Cry, The Europeans, No End of Blame, An Experiment with an Airpump, Somewhere in the Pacific. BROADWAY: The Band's Visit, Act One (Lincoln Center Theater), Relatively Speaking.  OFF-BROADWAY:  The Band's Visit (Atlantic Theater Company), The Changeling (Red Bull Theater), Old Jews Telling Jokes, All's Well that Ends Well (The Public Theater), Measure for Measure (The Public Theater).  FILM/TV: "COHAB" (YouTube- 3 episodes), "Deadbeat" (Hulu). MFA: NYU.  BA: Middlebury College.
View Artist Page
Jackie Sanders *
Woman
Jackie Sanders is thrilled to work with PTP again this summer after appearing as Charlotte in Party Time last year. Other recent roles include Laura Keene in the workshop of the new musical Tyrants! at York Theatre Company and an angry shareholder on the upcoming season of HBO's "Succession."  Off Broadway:  Kicking a Dead Horse (The Public Theater – written & directed by Sam Shepard), Measure for Measure (The Public), The Taming of the Shrew (Shakespeare in the Park), Swingtime Canteen by Charles Busch (Original Cast), Cowgirls (Original Cast), The Demise – A Rock Opera (Playwright's Horizons), Music-Hall (Diffractions Théâtre Co).  Tours: 42nd Street, A Chorus Line.  Regional: The Old Globe, Bay Street Theater, Bucks Co.  TV: "Pan Am" (ABC), "Live from Queens" (Lifetime Network), "The Loudest Voice" (CBS), "The Blacklist" (NBC) and "Unbreakable Kimmy Schmidt: Kimmy vs the Reverend" (Netflix).
View Artist Page
* member of Actors' Equity Association, the union of professional Actors and Stage Managers in the United States
◊ member of the Stage Directors and Choreographers Society
º member of United Scenic Artists, Local USA 829