Lunch
Berkoff's plays are razors, edged with humor, sex and exposed vulnerabilities.
By Steven Berkoff
Directed by Richard Romagnoli
July 9-13, 2021
Virtual
40 mins
Lunch
A man encounters a woman whom he finds enormously attractive. Introductions ensue and the subsequent exchange of "viscous bodily feelings" is a contest of wit that spirals into an unique seduction.
In this wham-bam 40 minute encounter, histories are revealed, clichés avoided and a unique post-coital recognition is achieved.
Steven Berkoff's language is visceral, humorous and provocative, but it is always authentic and honest.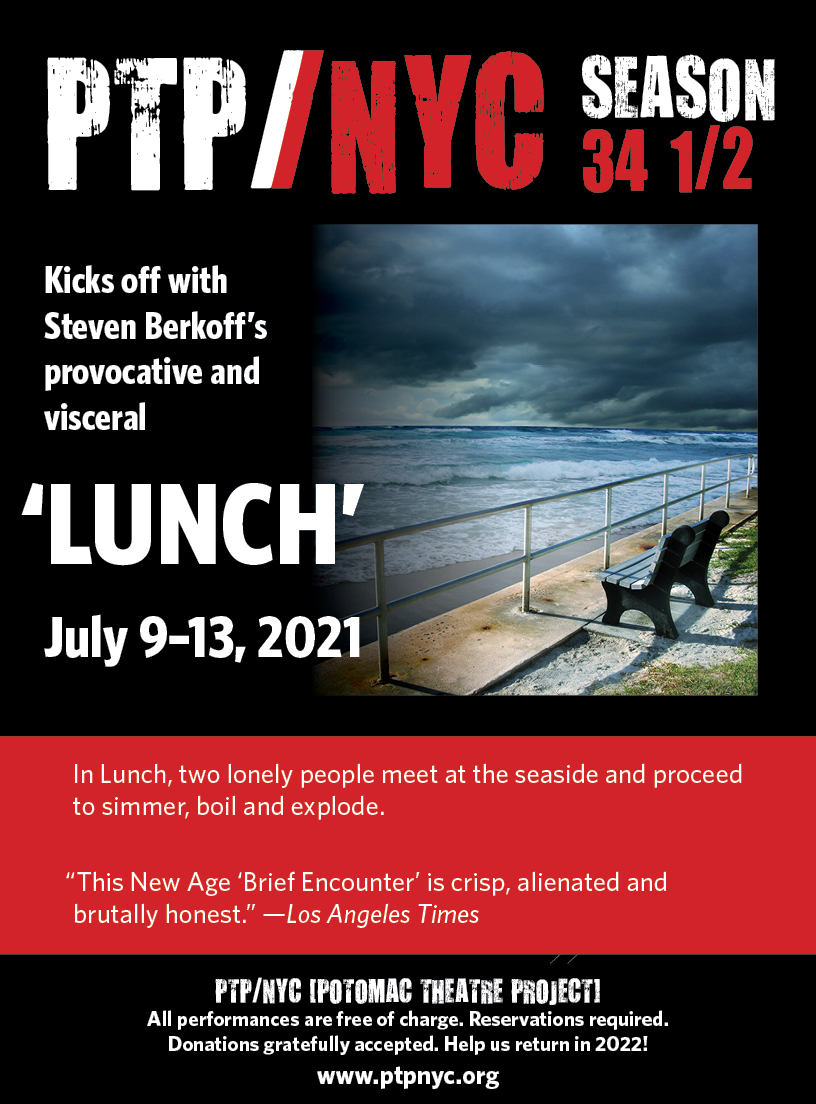 Cast
Bill Army *
Man
Bill Army began his professional acting career in "Somewhere in the Pacific" directed by PTP Co-Artistic Director, Jim Petosa.  Over nearly two decades, Bill has worked with Co-Artistic Directors Richard Romagnoli and Cheryl Faraone, and Associate Artistic Director, Alex Draper on over twenty productions and readings.  Most recently in "Scenes from an Execution" and "Vinegar Tom."  And though Jim, Cheryl, Alex, and Richard hate sentimentality, Bill wishes to thank each of these brilliant artists from the bottom of his heart for their impact on his life…but he was only offered 100 words in the program, so there isn't enough space.
Jackie Sanders *
Woman
Jackie Sanders is thrilled to be returning to Potomac Theatre Project this season. Other recent work: Carousel (Riverside Theatre); The Musical of Musicals (York Theatre Co); Tyrants! (York Theatre workshop). Off-Broadway Original Casts: Swingtime Canteen (Lilly McBain); Cowgirls (Mickey); Kicking a Dead Horse (written and directed by Sam Shepard). Other: Measure for Measure (The Public Theater); The Taming of the Shrew (Shakespeare in the Park); The Demise – A Rock Opera (Playwrights Horizons). Tours: A Chorus Line (Val); 42nd Street (Anytime Annie u/s Dance Capt); TV: "Pan Am" (ABC); "The Loudest Voice" (CBS); "The Blacklist" (NBC); "Unbreakable Kimmy Schmidt: (Netflix). Jackie can be seen playing Barbara Walters in the upcoming TV mini-series, "Iron Mike" (HULU) and can be heard voicing numerous Audiobooks. Many thanks to Richard and Cheryl. Love to Bill and Olin.
* member of Actors' Equity Association, the union of professional Actors and Stage Managers in the United States
◊ member of the Stage Directors and Choreographers Society
º member of United Scenic Artists, Local USA 829