A Small Handful
three poems by Anne Sexton in speech and song
Directed by Jim Petosa
August 13-17, 2021
Virtual
22 mins
A Small Handful
Sharing the experience of life in the extreme is the stuff of poetry.
Expressed through the voice – an experiment in speech and song – we can discover something about the endurance of Anne Sexton's complex journey.  The enfleshment of her poetry through speech, song, and performance breathes life into those words, even as the poet, herself, makes an ultimate exit.
Presented in collaboration with Boston University Opera Institute, William Lumpkin, Director.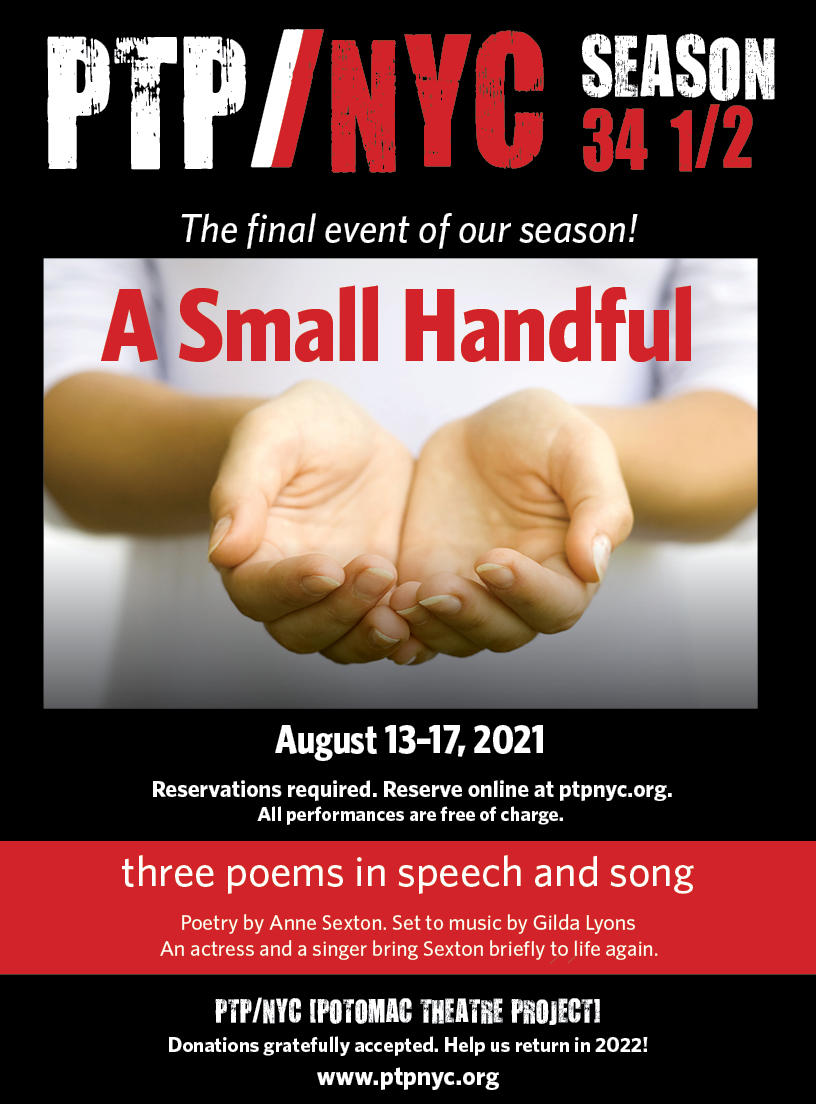 Cast
Paula Langton
Speaker
Theater credits: The Winter's Tale (Hermione), King Lear (Regan), All's Well That Ends Well (Lord II and Mariana), Measure for Measure (Isabella), Richard III (Rivers, Mayor, and Second Murderer), Actors' Shakespeare Project; Metamorphoses (Juno), Teatro Eos in Stromboli, Italy, and Teatro Nacional at the Great Theatre of the World Festival in Lisbon, Portugal, the Wimberly Theatre with BU; Scenes from an Execution (Galactia), Much Ado about Nothing (Beatrice), The Tempest (Miranda), Shakespeare & Company; Taming of the Shrew (Kate), Boston Theatre Works; Twelfth Night (Maria), Counterpoint Theatre;Twelfth Night (Feste), Los Angeles Women's Shakespeare Company; King Lear (Edgar), Henry V (Bardolph, Westmoreland, Michael Williams, and Captain James), Company of Women. Other: LaMama e.t.c., New York Theatre Workshop, Hasty Pudding, Charles Playhouse, Boston Playwrights' Theatre, Nora Theatre, Gloucester Stage Company, Coyote Theatre. Film: summer 2005 documentary Giving Voice: An Actor's Journey with Kristin Linklater.
Kaileigh Riess
Soprano
Soprano Kaileigh Riess has been seen most recently in the roles of Maria Bertram (Mansfield Park) and Anne Trulove (The Rake's Progress) with the Boston University Opera Institute. Kaileigh completed her education at Northwestern University (BM Voice Performance, BA English Literature) and the University of Southern California (MM Opera), where she performed the roles of Blanche (Dialogues of the Carmelites), Laurie (The Tender Land), La Contessa (Le nozze di Figaro) and Morgana (Alcina

), among others.

This 2020-21 season, Kaileigh was named the 3rd place winner in the Jensen Foundation Vocal Competition, a Boston District winner in the 

 Metropolitan Opera National Council Auditions, and the 1st Place winner of the inaugural Wilkinson Young Singers Fund, 

and she continues to compete as a finalist in the Lotte Lenya Competition in New York City this August. This summer, Kaileigh sings as a vocal fellow with The Music Academy of the West, and will be featured in the 21st Century Liederabend (Beth Morrison Projects) and throughout their summer programming. 
* member of Actors' Equity Association, the union of professional Actors and Stage Managers in the United States
◊ member of the Stage Directors and Choreographers Society
º member of United Scenic Artists, Local USA 829